Bountiful Waterfalls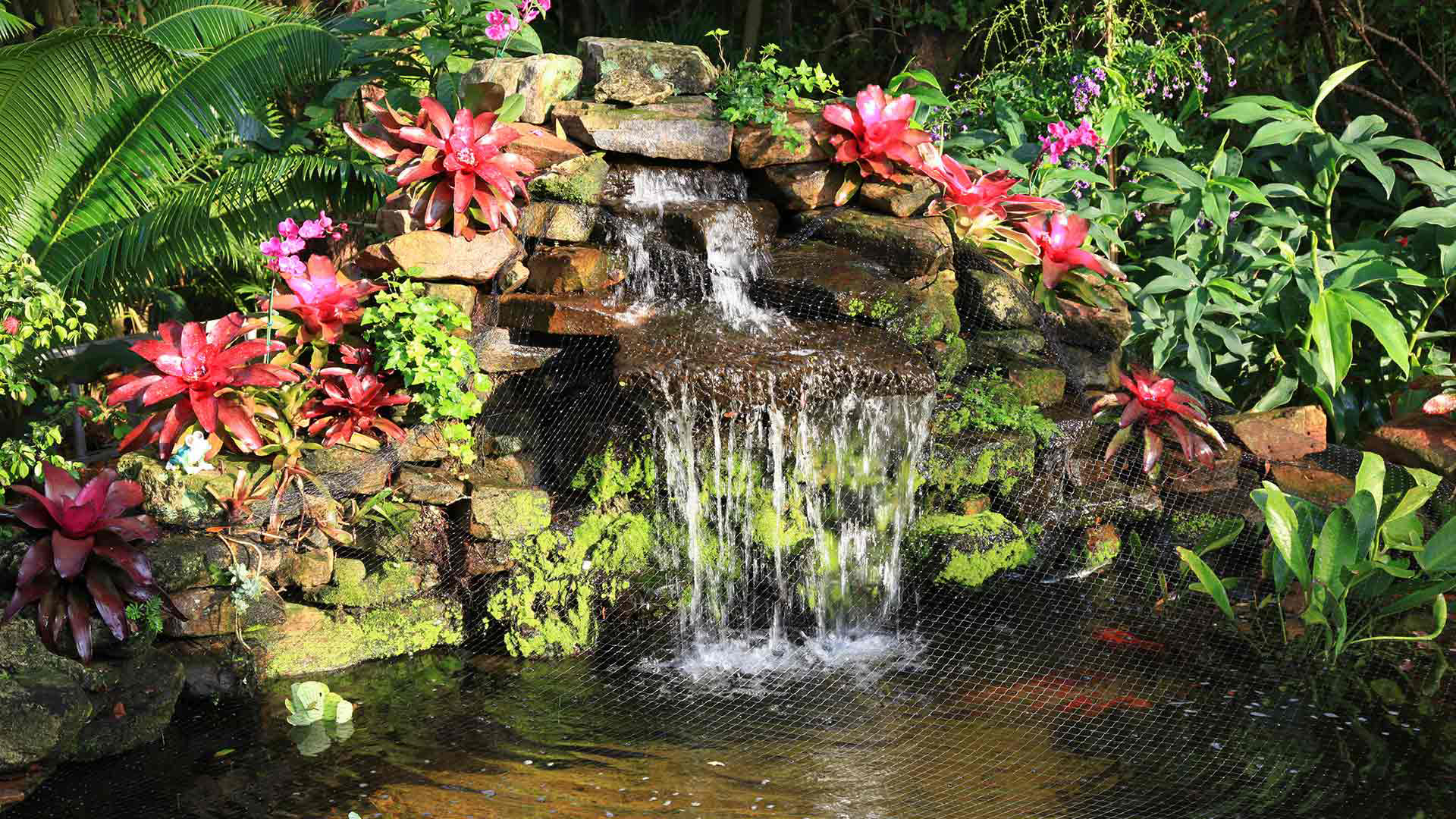 Are you looking for ideas on how to give your garden a truly unique touch? Bountiful waterfalls may be just what you need. The scenery of the state of Utah features several beautiful waterfalls. Thanks to our services, they will be coming to your backyard, too.
Water features have always been some of our favorite projects. Among them, waterfalls may be the most fun to design. Our specialists at Richter Landscape are here to help you design a waterfall of your dreams and to make your garden a special and magical place. Our goal is to make every feature we construct unique and designed with the individual homeowner in mind.
Top 4 Bountiful Waterfall Ideas
Simple Waterfall Ideas
A quick way to have a simple, budget-friendly waterfall in your yard is installing it into existing structures. It can be built into other water features, decorative garden walls, garden stairways, and even overhead pergolas and shades, if they're able to support it. All you need is a simple water system and a water basin.
Indeed, almost any cascading structure can be turned into a backyard waterfall with a properly designed pumping system and a basin to collect the water. We can build Bountiful waterfalls which are personalized specifically to fit into the existing design of your garden.
If there are any slopes on your property, they can be a perfect spot to build a waterfall. The great thing about them is that there is no need to erect additional, artificial slopes.
Finally, if you are looking for an alternative to a real waterfall, you have the option of cascading clay fountains. While not quite the same experience, they will still provide a refreshing sight.
Pool Waterfalls
Adding a waterfall to your pool is a great way to make it look even more scenic. We make sure that the waterfalls we build are a perfect match for your pool, regardless of its structure or construction materials.
Furthermore, designing a pool waterfall with a water slide allows for fun poolside activities. Pool water slides come in many different shapes and sizes, depending on how adventurous you want to be. If you have kids hanging out by your pool, they will especially enjoy this feature.

Pond Waterfalls
Pond water slides are some of the most popular designs for Bountiful waterfalls. This breathtaking water feature brings peaceful and soothing sights, sounds, and reflections to your garden, making it a perfect spot to relax and meditate.
There are many options available for further customizing your pond waterfalls. Decorative rocks can alter the flow of the waterfall to make it look exactly how you imagine it. Furthermore, adding ornaments, such as small statues, and greenery will make your pond waterfall fit more organically into the environment. Last but not least, for those who enjoy spending time in the garden at night, we offer waterproof LED fixtures. They come in different colors and light intensities to suit your needs and taste. Adding some light to your waterfall will also make it stand out more.
Large Landscape Waterfalls
What could make your backyard look fancier than adding large landscape waterfalls? They take the most time and effort, but we believe it pays off! If there is enough space in your yard, large landscape waterfall designs can be designed in almost any way you wish. Want a tall waterfall resembling one flowing down a mountain stream? How about a water wall around your patio, providing a place to sit and relax? Perhaps you would prefer an elaborate system of smaller waterfalls? With us, all of these options and many others are available to you!
Contact Us Today
Waterfalls can turn any garden into a zen spot. They can be designed to fit any garden style. Even better, they can even increase your property value and make your home look more luxurious.
If any of these ideas for Bountiful waterfalls have inspired you, contact us today for a free quote and consultation and we will make sure you have the best experience possible.
Helpful Waterfall Information to Help You Decide Which Direction to Go In
Increase the Value of Your Property with a Waterfall
Water Feature Ideas For Your Home
Contact a Waterfall Specialists For Addition Information
Related Articles