Outdoor Landscape Lighting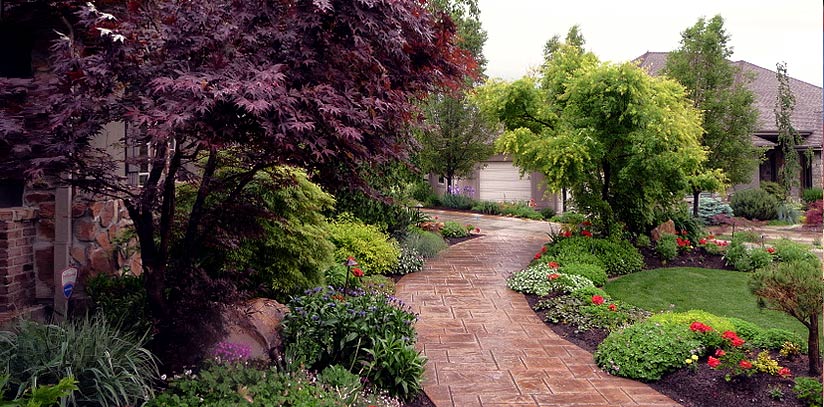 Gardens and landscapes come in many shapes, sizes and individual complexity with a great variety of features such as rock gardens, gazebos or special water features.In the evening when the sun is going down and sunlight starts to wane these special characteristics begin to take on new shape and ultimately disappear.This is where Richter Landscape can help add an extra dimension. We do outdoor lighting for everything from swimming pools and fountains to rock gardens and expansive green belts.
Landscapes and gardens have been illuminated by gas, wood, oils, candles and electric light for as long as interior structures have. Gas lighting of the 19th century and electric lighting of the 20th have been used for targeting purposes of safety, nighttime aesthetics, accessibility, security, recreation and sports, and social and event uses. Lighting of the 21st century continues to target these purposes with new ever evolving methods of delivery. Examples of these innovations include the increasing use of low voltage fixtures,fiber optics, solar power and creative lighting design, just to name a few.
A spectrum of illuminated ambiance can be gained by using a variety of lighting from fueling lanterns or outdoor fireplaces and fire bowls or 'tike-torches' to supplying electricity for under water lighting fixtures and overhead lighting for public walkways. Natural gas can be used on fixed post lamps, propane for table top portable lanterns or oil fuels for lighting camping lanterns and hurricane lamps. Whatever your needs or desires are in the realm of outdoor landscape lighting Richter Landscape is here to contribute. We believe that the creation of a variety of outdoor lighting styles and themes or constructs is contained only by individual creativity. Give us a call for anything from advice to a free estimate of your new project!
Related Articles