Bountiful Pergolas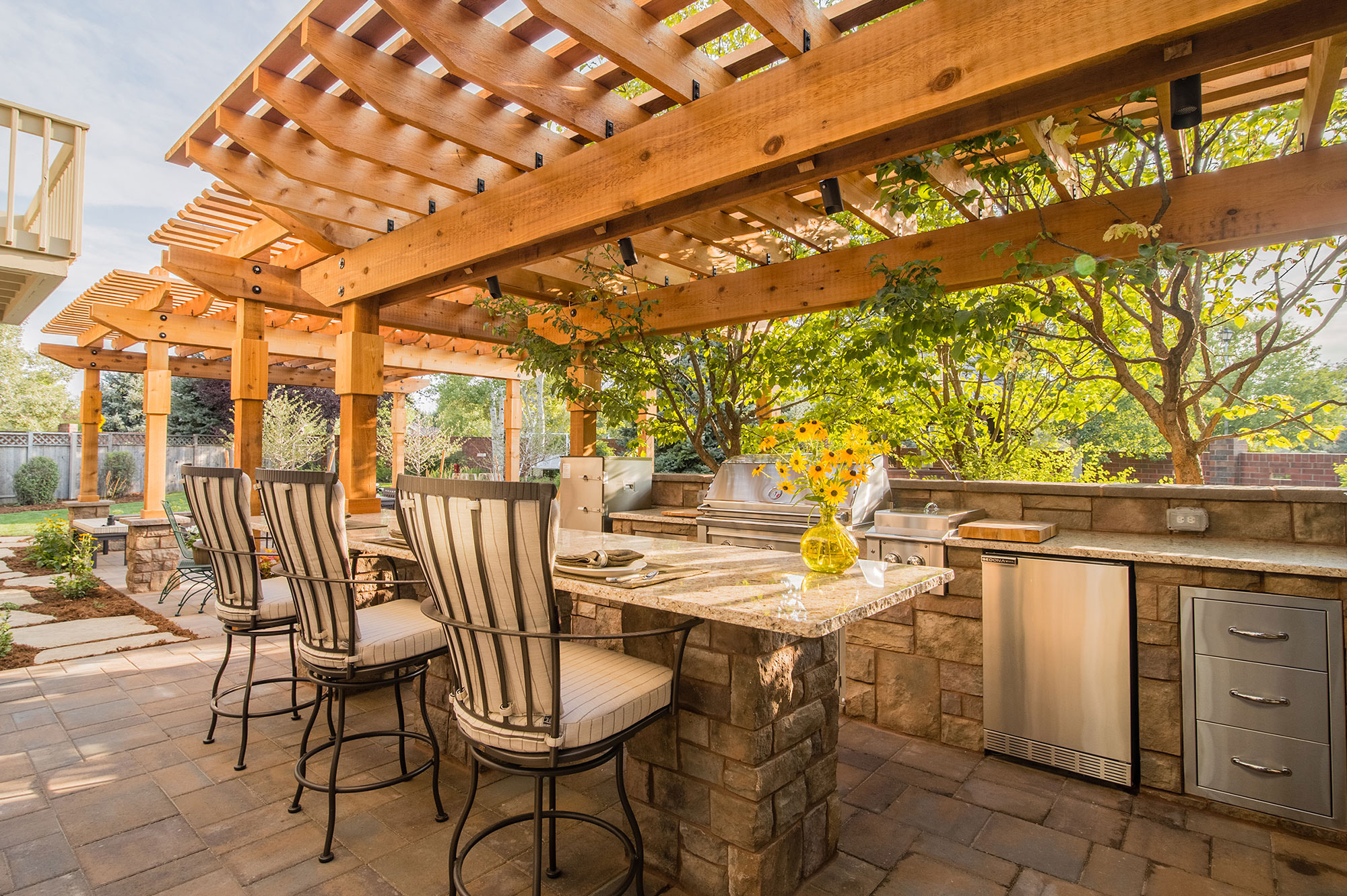 When the weather is nice, everyone wants to spend as much time outside as possible. Yet many are discouraged by the prospect of the sun blasting on their heads or risking getting soaked by unexpected summer showers. A perfect solution for extending your quality outdoor time in Bountiful, Utah, is installing a pergola in your garden. A pergola will add both form and function to your backyard. It is visually appealing, extremely versatile, and can come in a design of your choosing. If you want to know more about what our Bountiful pergolas can add to your home and what kinds you can choose from, keep on reading.
Why You Need A Pergola
A pergola is a multi-functional outdoor feature. It comes in a variety of styles, colors, and materials, and it can be placed anywhere on your property. If you are unsure why you would need one in your backyard, here are some of the ways your property can benefit from it.
They Are Decorative
The main reason you should consider adding a pergola to your garden is its visual appeal. It looks beautiful wherever you choose to place it, so you are sure to enjoy spending time in your backyard.
If your garden is quite spacious, a pergola is an excellent way to break up the monotony of flat space. A vertical structure of this kind undoubtedly adds visual interest and embellishes any backyard.
Bountiful Pergolas Increase Home Value And Appeal
Outdoor living has never been more popular. Any home that has landscape structures, such as decks, patios, and water features, has a higher market value. The same applies to pergolas. If you want to entice potential buyers, consider adding one to your property.
They Extend Your Home
Pergolas can be freestanding features, or you can choose to install them as patio or deck covers. Alternatively, consider attaching them to your house in the vicinity of the kitchen. Whichever way you decide to go, having an outdoor area that is sheltered from the elements counts as an extension of your living space. The bonus is that your outside living room or dining area is low-maintenance and doesn't incur any additional costs.
They Give You Privacy
Typically, a pergola is a wide-open structure, meaning that its roof and sides are not fully closed. But you can easily upgrade it to block it from the prying neighbors' views.
Consider adding some sort of fabric on the roof or some breezy, sheer curtains on the sides. That will give your pergola a clean, trendy look, as well as some much-desired intimacy.
They Can Provide Shade
Generally speaking, protection from intense weather is not the primary function of a pergola. However, if you want to take it to the next level, you can add screens to the roof or the sides of it to shield yourself from direct sun exposure and blasts of wind, rain, even hail. Another solution is to attach a gable or pitched roof to it, which looks best over backyard hot tubs or outdoor dining areas.
Bountiful Pergolas
A pergola is a structure with four posts, no walls, and decorative roof design, usually in the form of cross rafters or lattice. You can choose whether to make it from wood, vinyl, fiberglass, or steel. However, a pergola is exceptionally customizable, meaning that you can add accessories to it and style it to your liking. Keep your open-top pergola if you want to allow sunlight and air circulation. Make it more vibrant and in tune with your garden by adding trailing vines along its beams and hanging flower pots off the rafters. Or dress up your pergola with ceiling fans, outdoor speakers, chandeliers, or another type of ambient lighting. You can also add a bench for more sitting space or hang a swing for a fun and romantic vibe.
Richter Landscape Inc. is a leading landscaping company in Bountiful, Utah. We have decades of experience and countless satisfied customers. Make sure to check out their testimonials on our website and then call us to see which of our Bountiful pergolas would be the best choice for your garden!
Take a Look at These Helpful Landscaping Articles
Looking For a New Garden Design For Your Home?
Take a Look At Our Other Landscaping Services We Offer
Consider Outdoor Lighting For Your Backyard
Related Articles